Last Updated on June 25, 2023
Trying to cook a delicious meal in a pan that has food sticking to it is no fun. It can be frustrating and time-consuming, not to mention the mess. There are many reasons why your nonstick pan may have gotten dirty or sticky, but there's good news: you don't have to buy a new one! In this blog post, we will share some simple cleaning tips with you that will make your nonstick pan like new again.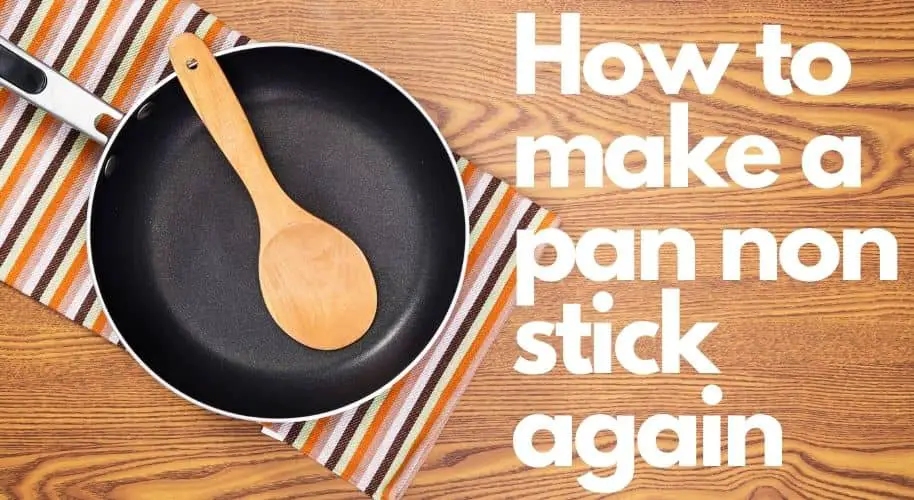 How To Make A Pan Non Stick Again?
Tired of the smell and taste of burnt food? Here's a simple way that will tell you how to make a non stick pan non stick again.
The Process of making your pan non stick again
Step 1:
Simply mix 1 cup of water, 2 tablespoons baking soda, and ½ cup white vinegar in the pan or pot that burns food. Then boil the mixture for 10 minutes. You can even add some salt or lemon juice if you want.
Step 2:
After that, wash the pan with soap and warm water. Then take a paper towel and wipe the pan or pot completely. No water should be left.
Step 3:
After that, apply vegetable oil to the top of the pan to season it (it'd be better if the oil is lukewarm). After rubbing the oil, you can heat the pan or pot for one minute in low heat.
This is it! Your old pan is ready for the next use. There won't be any unwanted sticking later down the road.
If you discover that the food is still clinging to the bottom of the pan after following this technique, it's time to get a new one. The Easy Kitchen Guide Expert staff have reviewed some excellent high heat non stick pans. You may check out the link for some inspiration!
Also read: Is it safe to use a scratched non stick pan?
What to Do If My Nonstick Pan Sticks?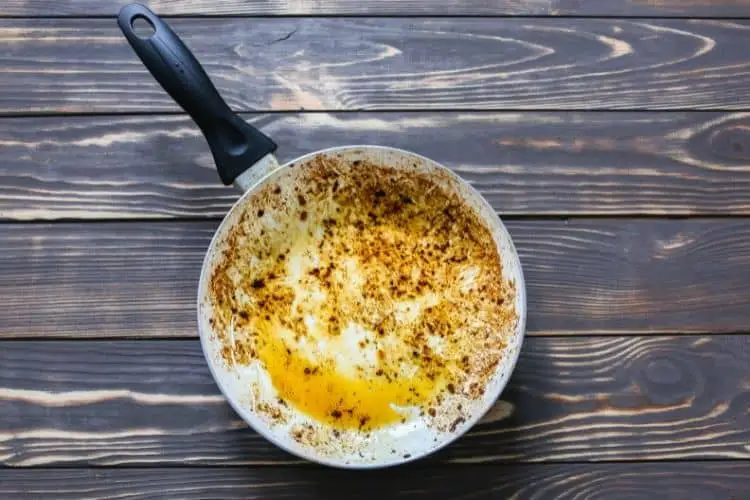 If your non stick pan sticks, you should do the following things:
– Avoid cooking any acidic foods in your skillet since they could react chemically with it, causing food residue or film on the surface. For example, if I wanted to cook black beans without my pan sticking at all afterward, then I would opt for canned black beans instead of dried ones because dry beans often contain more acidic substances.
– You should avoid cooking anything that contains sugar in your pan since sugar will caramelize and then stick as it cools on the surface of the non-stick coating. For example, if I wanted to make a sauce without my pot sticking at all afterwards, I would use canned tomato sauce instead of fresh tomatoes because often, they contain more natural sugars.
– If you're using an electric stovetop rather than a gas or ceramic coil, try turning down the heat setting by one position from what you typically cook with – this will help prevent those annoying stuck particles!
What to do to keep my pan non-stick every time I use it?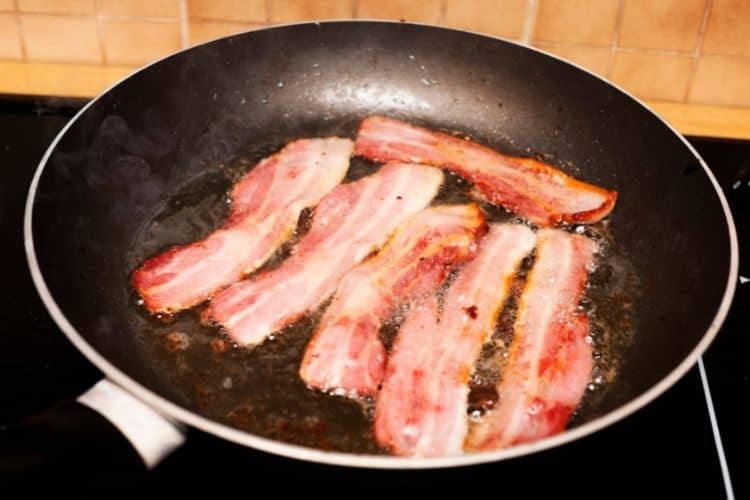 We recommend that you clean your pans after every single time they are used because if there is even one bit of residue left over from what was cooked last, then when something new gets added later, it might stick more easily than usual.
To avoid this problem, we just like to do an extra quick rinse or wipe down at the end of each meal, so no bits ever accumulate for too long. This also makes doing dishes easier as well since there's not a lot of food bits smearing around.
Why does a non-stick pan start sticking?
Non-stick pans start sticking for a number of reasons, including scratches and stains. Over time, grease and other tiny food particles may build up in the pan's surface area where these things have occurred.
Luckily there are several ways to help prevent this from happening!
One way is by thoroughly cleaning any stained or scratched surfaces with soapy water because those areas will start accumulating chemicals that make them tacky once more over time which you should also be sure to do on an as-needed basis if your cookware starts showing signs of wear before it becomes too late.
Another option would be seasoning your pots after they've been cleaned so that their nonstick qualities can last even longer than ever before!
Does cooking spray ruin non-stick pans?
Even though the cooking spray is easy and healthier than using oil, it has a worse effect on your pan. When you use it for cooking food, the chances are that not every part of the pan with cooking spray will have any type of food cooked onto them, which means unutilized sprayed oils can bake onto nonstick pans creating a film and canceling out its properties!
To avoid this damaging residue from forming, I recommend olive or coconut oil instead.
Can I use high heat with a nonstick pan?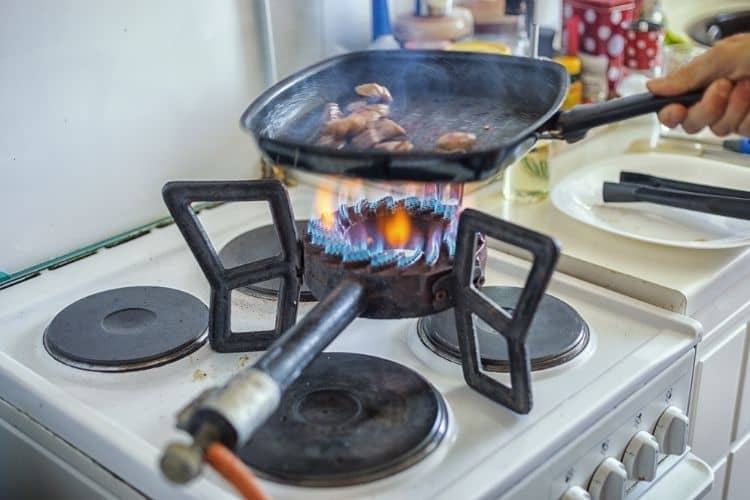 A nonstick pan is specially designed to cook with little-to-no oil in low or medium-low heat. The nonstick coating on the non-stick surface keeps food from sticking and makes it a breeze to clean up afterwards!
If you use your non stick pan at high heat, these pans can warp or even break down over time. So, you should use a non stick pan at high heat. You can cook food at low medium heat when using a nonstick pan.
Plus, you should also protect your pan by keeping them away from sources that may cause damage like ovens -remember that they should only be used for stovetop cooking instead!
When should you replace a nonstick pan?
It is important to maintain your nonstick cookware and replace it when the time comes. If you notice that food sticks, even after cleaning, or if there are a lot of scratches on the interior of your pan and the coating is flaking off, then it's time to replace your old pan with a new one.
Normally, a quality non stick pan should last about 3-5 years, but proper maintenance can increase this lifespan significantly.
The wrap-up:
Thanks for reading this guide about how to make a pan non-stick again. We hope that you've found this guide helpful and informative. To sum up, we just want to mention that if you've been cooking in a pan for a while and the food starts sticking on the bottom, it is time to apply the above-described deep cleaning process.
The key to making your nonstick cookware like new again is using some common kitchen ingredients (maybe a little elbow grease). Give this simple recipe a try and see if your pans are as good as new!
Please, share our blog article with friends who might need help getting their cookware clean too!
Sharing is caring!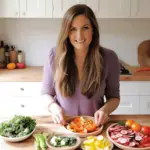 My name is Lori Walker. I'm a food blogger and food enthusiast. I share easy healthy, delicious recipes on my blog and review necessary kitchen items. The recipes I share take less… Read more