Last Updated on July 5, 2023
Cloudiness from glass top stoves is a common problem faced by many homeowners. Glass top stoves are incredibly convenient and stylish, but unfortunately, they can become cloudy and discolored over time. 
Fortunately, there are several simple methods you can use to remove the cloudiness and restore your stove's original shine. 
In this article, we'll explore a few of these methods and other information, along with tips and tricks to make your stove shine like a light ray. 
So, keep reading to learn how to remove cloudiness from glass top stoves!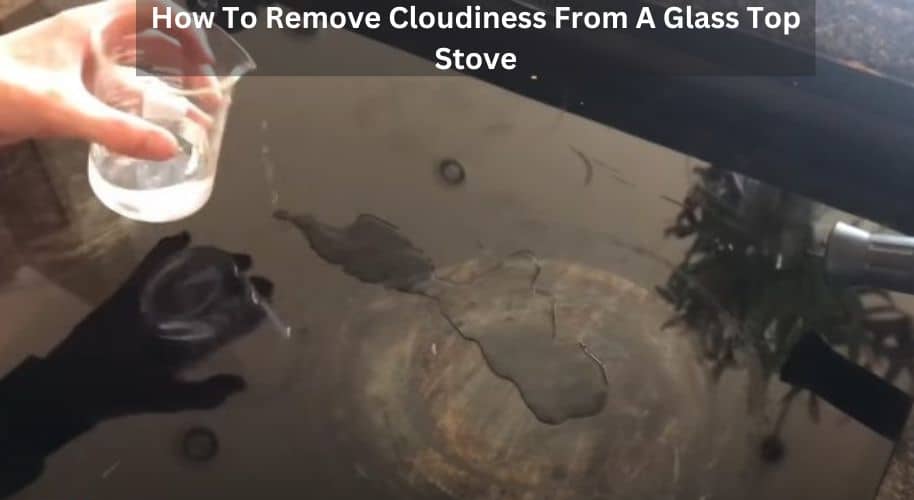 How to Remove Cloudiness from a Glass Top Stove?
If your glass top stove has become cloudy and dull-looking, here is an easy and budget-friendly way to get your stove back looking shiny and new.
Things You'll Need
The Step By Step Process Of Removing Cloudiness from a Glass Top Stove
Step 1: Clean the Surface
Mix a mild detergent with warm water in a bowl and use a soft cloth or sponge to wipe down the surface of the stove. Make sure that all grease and dirt are removed before proceeding.
Step 2: Make a Paste
In a separate bowl, mix together equal parts vinegar and baking soda until it forms a paste-like consistency.
Step 3: Apply the Paste
Using your fingers or a soft cloth, spread the paste on the cloudy areas of the stove. Let sit for 5-10 minutes before wiping off.
Step 4: Buff Out Scratches with Car Wax  (Optional)
If there are any scratches or scuff marks still remaining on your glass top stove after using the vinegar paste, use car wax to buff them out with a paper towel until they disappear. You must be careful not to rub too hard as this could cause further damage.
Step 5: Rinse and Dry
Rinse off any remaining residue with water and dry completely with a clean cloth or paper towel.
By following the given method, you should be able to restore your glass top stove's original shine and remove any cloudiness. You can keep it looking good for many years to come with regular cleaning and maintenance.
What causes cloudiness on glass stovetops?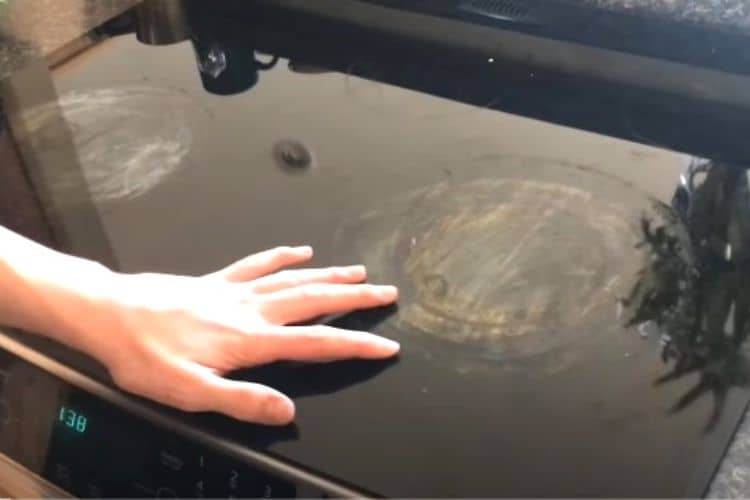 According to experts, the most common cause of cloudiness on glass stove tops is a build-up of grease, oils, and debris that have been cooked onto the surface over time. This can be caused by spills, splashes, and general cooking residue that accumulate at high temperatures.
Moreover, heat residues can form and build up over time due to intense heating, so make sure you clean the stovetop regularly with the appropriate cleaner for your specific stovetop model. 
To prevent cloudiness from building up, you must use gentle soap and warm water to clean the glass surface after each use.
You can also consider purchasing special cleansers developed for glass/ceramic surfaces if a more powerful cleaner is needed to keep it looking clean.
Therefore, you have to use the appropriate cleaning agent for the stovetop and follow instructions carefully. 
What Not to Use on a Glass Top Stove?
To make sure that your glass top stove keeps on looking brand-new, you need to avoid the following things:
Abrasive scrubbing pads or brushes, steel wool, and other abrasive materials.
Harsh chemical cleaners, such as bleach and oven cleaner.
Heavy-duty cleaning agents like ammonia and harsh solvents.
Abrasive cleaners like Ajax, Comet, Soft Scrub, etc., because these can scratch the glass surface.
Any scouring powder or paste containing chlorine or lye that is not specifically intended for use on glass cooktops.
High-pressure steam cleaners, as the high pressure could cause damage to the glass cooktop's surface sealant or even break the glass itself.
Keep in mind that glass stovetop surfaces are very delicate and should be properly cleaned, which means you can only use mild detergent and water. As long as you use the right cleaning products, you'll be able to keep your glass-top stove looking beautiful all the time.
Can you restore a glass cooktop?
Yes, you can restore a glass cooktop. Depending on the severity of the damage, you may need to purchase a replacement glass cooktop or have an old one sandblasted.
If your glass cooktop is damaged but still in good condition, cleaning and polishing it can help restore its shine.
You can follow the above cleaning process for this.
How do you make the glass stove top look new again?
To make your glass stove top look new again, these are a few easy steps you can take:
Start by giving the stove top a good cleaning. I use dawn dish soap and warm water to remove any dirt or food residue from the surface.
Dampen a glass cooktop cleaning pad and rub it lightly around the stove's surface to get rid of any stuck-on grime.
Dry your glass stove top with a soft cloth, ensuring you don't leave any streaks or spots behind.
If there are any particularly stubborn stains, I reapply a bit of dawn and repeat the process. 
For a final touch, I apply some of my car wax to the clean, dry surface of the stove top using a soft cloth to give it an added shine and protection against future stains and discoloration.
I can assure you that by following these steps, your glass stove top will look new again!
"Regular cleaning with the right products and taking extra care to protect and maintain it will keep your stove top looking like new for years," stated by cleaning experts.
So don't forget to clean your glass stove top regularly if you want to make sure it stays looking beautiful and shiny! 
What is the best cleaner for glass top stoves?
You should use a combination of baking soda, dish soap and vinegar for a sparkling, streak-free shine on glass top stoves. 
The baking soda acts as an abrasive cleaner and removes stubborn stains, while the dish soap helps to break up grease and grime. Vinegar can be used to disinfect the surface and help restore its natural shine. 
Simply mix together equal parts baking soda, dish soap and vinegar in a small bowl or container and apply the paste with a damp cloth or paper towel. 
Rub gently in circular motions until all dirt and stains are removed. Rinse with a wet sponge or cloth and buff dry with a soft cloth to reveal clean and shiny results, which will be very impressive to your eyes and your surroundings as well!
However, if you find this DIY method difficult, the following products will help you clean.
1. Weiman Cooktop and Stove Top Cleaner Kit
Weiman Cooktop and Stove Top Cleaner Kit...
REVITALIZE WITHOUT SCRATCHING: Non-abrasive cooktop pads help easily remove heavily burned on foods, grease & grime. Our cooktop cream uses micro-bead technology to boost cleaning power.
SHINE & PROTECT: Dramatically cleans, shines, and protects glass/ceramic/induction smooth top ranges. Buff with a paper towel to shine.
SAFE & EASY TO USE: Leave a streak-free shine while removing splattered food, dirt, oily residue & watermarks. Will not scratch or damage your cooktop.
USE ON: All major glass/ceramic cooktop manufactures including GE, Whirlpool, Frigidaire & Thermador. TRUSTED BRAND: Weiman is a trusted cleaning brand for most of your home's delicate, difficult to care for surfaces; clean, protect and enjoy your home with Weiman.
3 PIECE SET: This bundle includes (1) Cooktop Cream, (1) Razor – (Razor is packed with the blade flipped inside for safety) and (1) Scrubbing Pad.
2. Cerama Bryte Daily Spray for Glass Cooktop
Cerama Bryte Daily Spray Cooktop and...
This every day, non-abrasive, cooktop cleaner removes grease, grime, and stains on all smooth cooktop / stovetop ranges, including glass, ceramic, induction, radiant, convection, and halogen without scratching and maintains shine
Simply spray cleaner on a cool cooktop, rub with Cerama Bryte cleaning pad or a dry paper towel, buff surface and wipe clean
This household essential kitchen cleaner is recommended for GE, Electrolux, Amana, Frigidaire, Whirlpool, Hotpoint, Kenmore, Admiral, Maytag, Tappan, Viking and any other smooth cook top or stove top
Cerama Bryte Cooktop Cleaner contains no phosphates, dimethicone, or silicone and is Made in the USA
This 4 Piece set contains 2 x 16 Fl. Oz Cooktop Daily Cleaner and 2 x Cleaning Pads perfect for daily cooktop cleaning
3. HOPE'S Cooktop Cleaning Cream 
HOPE'S Cooktop Cleaning Cream, Fast...
Removes Burnt-on Stains: This glass ceramic stove top cleaner targets and gently loosens even the most stubborn burnt-on stains to provide an easy-to-use cream cleaner for your kitchen needs
Fast-Acting Formula: By deeply penetrating burnt deposits, this ceramic glass stovetop cleaner quickly dissolves grease and grime, so you can save time and effort with less wiping
Non-Scratching: With a unique, acid-free formula, this glass ceramic cooktop cleaner will not scratch the surface of your stove top and will leave it polished to a like-new shine
Rinse-Free Cleaning: Using a dry towel, easily remove excess cooktop cleaning creme on your stovetop and buff it dry to a brilliant shine without the need of using an ounce of water
Trusted: Recommended for all types of glass ceramic cooktops such as smooth surface radiant, halogen, and induction cooktops; each bottle of the glass cooktop cleaner contains 10 fl oz
How to clean a glass top stove with burnt food?
Cleaning a glass top stove with burnt food can be daunting, but it doesn't have to be.
So, here are some easy steps for cleaning that stubborn grime:
Start by unplugging your stove and letting the surface cool completely.
Use a razor blade scraper or putty knife to gently scrape away any of the burnt pieces that you can, being careful not to scratch the surface.
Once most of the burnt pieces have been scraped away, create a paste using baking soda and water (about 1/2 cup baking soda with 1 tablespoon water).
Spread the paste over the glass and let it sit for 15-20 minutes until it is completely dry.
Use a damp cloth to wipe off all of the paste residues, then use glass cleaner or white vinegar mixed with warm water to finish cleaning the surface and remove any streaks.
Therefore, by following these steps and tips, you can easily clean your glass top stove with burnt food in no time. 
For stubborn stains, repeat the process until they are all gone. Ensure you wear protective gloves while cleaning the surface to avoid any damage or accident.  
Wrapping up:
Cleaning your glass top stove is not as intimidating as it sounds. With a few simple steps and some basic ingredients, you can make sure your appliance looks beautiful and shiny. Try the DIY cleaning solutions mentioned above and you'll enjoy your sparkling stove top in no time! 
Please share this guide with your friends and family if you find it helpful. Thanks for reading!
Sharing Is Caring!
You Might Also Like These Posts!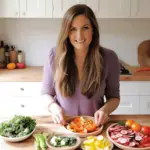 My name is Lori Walker. I'm a food blogger and food enthusiast. I share easy healthy, delicious recipes on my blog and review necessary kitchen items. The recipes I share take less… Read more