Last Updated on July 18, 2023
You've come here because you just purchased a new induction cooktop, and you're wondering how to use your old non-induction pans and pots on it. If that's the case, you are in the right place.
Here, we've gone through how to use non-induction cookware on an induction cooktop. As a result, your old cookware is still in use. You don't have to buy new ones.
What is an induction cooktop, and how does it work?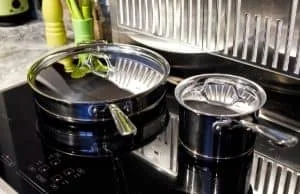 Before we go into how to use non-induction cookware on an induction cooktop, let's take a look at what an induction cooktop is and how it works.
An induction cooktop uses a magnetic field to heat the pan or pot. It creates rapid, intense heat directly under the cooking vessel, allowing for more precise control and faster cooking times than traditional gas or electric ranges.
It generates heat via electromagnetism. The wire is submerged in an alternating current flowing through the coil beneath the cooktop surface.
The pans should have a ferrous metal base in order to work properly on an induction stove. When we put induction-supported cookware on it, the current generates a magnetic field around it and above the surface, which penetrates through the magnetic barrier.
However, an electric current forms resistance when the skillet (magnetically conductive and ferromagnetic) is placed on the cooktop. This results in heat and thus cooks food.
You can tell if your pots are induction compatible by putting a magnet at the bottom of the pot – If it sticks to the base, then you're good to go!
If it doesn't stick to the bottom, then your pots won't be able to use on an induction stove.
Also Read: Can I use non stick pans on induction hob
How do I use non-induction cookware on an induction cooker?
Normally, induction cooking is possible with stainless steel, iron, and enameled cast iron. But copper, aluminum, and glass will not function on induction since the magnetic field will be unable to pass through, and no electrical current will be generated in the cookware.
However, we'll show you two simple methods below that will allow you to use your copper, aluminum, or glass non-induction cookware in any induction cooker.
Method 1: Using a Non-Induction Cookware Converter Disk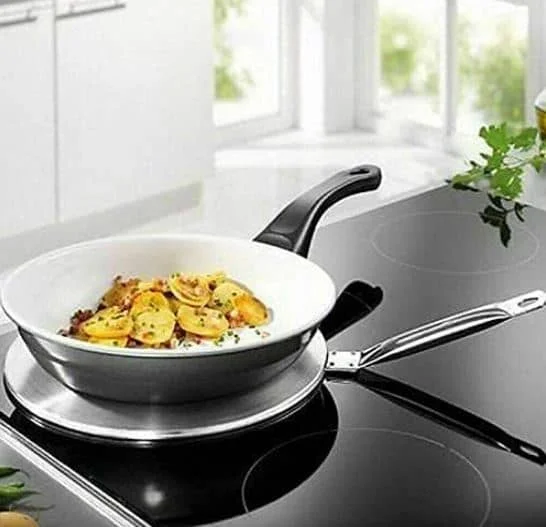 A Non-Induction Cookware Converter Disk is a flat disk that is used to link non-ferromagnetic cookware with an induction cooktop. It works with all induction hobs and allows the use of glass, copper, porcelain, aluminum, and non-magnetic stainless steel.
Basically, it works as a transformer that will create a magnetic field around your non-induction cookware. It is made of ferromagnetic material (iron, steel, or nickel) and will turn your non-induction cookware into an induction-compatible one. 
All you have to do is place the converter disk between your pot/pan bottom and stovetop burner plate.
The induction hob will make it hot, and your pot will heat up just as well. 
From our point of view, Max Burton 6010 8-Inch Induction Interface Disk with Heat-Proof Handle is one of the best non-induction cookware converter disks available on the market today.
This nifty device is designed for use with any portable or built-in induction surface. It's made from durable stainless steel that distributes heat evenly so that you can cook food to perfection. 
The heat-proof handle ensures a secure, comfortable grip so you can easily move it around your kitchen without worrying about burning yourself.
Method 2: Using still wire mesh
Although I have not employed this method for myself, in a video on youtube, I've seen that some people leave still mesh wire on their induction cooktops, and it generates a magnetic field that heats up the metal. Then they place the non-ferromagnetic pot over it to cook meals. 
This method works best if you have thin and small gauge mesh wire. But I wouldn't recommend it for cooking because it might be so risky and damage the induction cooktop. 
I've seen a video that the mesh wire is melting due to excess heat and then started catching fire! That's bad news for your kitchen.
If you try to follow this method, you should take proper safety precautions and do some research before trying this method. 
Why should you not use any non-induction pot or pan on an induction stove?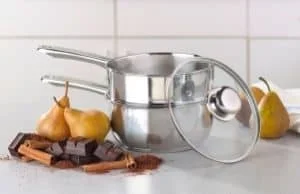 Whatever methods you follow, whether using a convertible disk or still wire mesh, it is always advisable not to use any non-induction pot or pan on an induction stove. It's because induction cooktop is the latest and best cooking technology available in the market, which has come to give you a faster cooking experience.
But when you use a convertible disk to use your non-induction cookware, it might slow down the cooking as it takes time to transfer heat to the cookware.
Using a still wire mesh is even more dangerous as it can be electrified during cooking and lead to electric shock or cause damage to your induction stove itself in some cases.
Even there are chances that your non-induction cookware might get stuck to the induction stove, and you may face technical problems while removing it.
A study in Century Life shows that it took 8 minutes 40 seconds to boil the water in an induction pot over an induction cooktop, while it took 19 minutes to boil the same amount of water in the same heat using a convertible disk on non induction cookware.
That's why we suggest using induction-ready cookware that is specially designed for an induction stovetop. It has a special magnetic base inside it, which works with the magnetism of the induction element to generate heat in your pot or pan. This kind of cookware will work well on any stovetop, including induction.
Our Easy Kitchen Guide experts have gone through the best induction hob pressure cooker for your convenience. If you're a pressure cooker user, check it out for more information.
However, we'll review the top 3 cookware set for induction here so that you can get an idea of the best cookware for induction cooktop.
1. All-Clad Brushed D5 Stainless Cookware Set
Our top pick
It comes with 10 pieces hard anodized cookware set that includes:
8 and 10-inch fry pan,
1.5 quart sauce pan with lid
3 quart sauce pan with lid
3-quart saute pan and
5.5-quart dutch oven with lid
All-Clad Brushed D5 Stainless Cookware Set is the best induction cookware set available in the market today. This set includes an 8 and 10 inches fry pan; a 1.5 and 3-quart saucepan with lid, 3 quarts saute pan, and a 5.5-quart dutch oven with lid, a total of 6 cookware altogether. 
This cookware set is designed specifically for induction but is compatible with all cooktops, also oven and broiler-safe up to 600°F. 
The handles are heat resistant and made of stainless steel, designed with a comfortable grip that is permanently secured by stainless rivets, and have flared rims for drip-free pouring, so you never have to worry about spilling.
It also features a beautiful brushed finish and fitted stainless-steel lids. This set is dishwasher safe, making it easy to clean up afterwards.
Its 5-ply bonded construction features alternating layers of stainless steel and aluminum for warp-free durability, and supremely even heating that eliminates hotspots means that you can cook your food evenly and efficiently.
This All-Clad Brushed D105 Stainless Cookware Set has a lot of great reviews on Amazon with many people satisfied with this product as can be seen from various customer testimonials available online.
2. Ninja Foodi NeverStick Premium Hard-Anodized 12-Piece Cookware Set
Best over-all
It comes with 12 pieces hard anodized cookware set that includes:
8-Inch Fry Pan,
10 1/4-Inch Fry Pan,
12-Inch Fry Pan with Glass Lid,
1 1/2-Quart Saucepan with Glass Lid,
2 1/2-Quart Saucepan with Glass Lid,
3-Quart Sauté Pan with Glass Lid,
8-Quart Stock Pot with Glass Lid.
Plus the 8-Quart Stock Pot,
10 1/4-Inch Fry Pan, and 3-Quart Sauté Pan share a lid.
The Ninja Foodi NeverStick 12-piece cookware set is a great choice for anyone who wants to cook healthy food on an induction cooktop and save money.
It will never stick, chip or flake, so you can cook foods without worrying about the coating wearing off.
The ninja exclusive nonstick coating is metal utensil safe and very durable means you don't have to replace it once every couple of years.
The lids, handles, and nonstick coatings are oven-safe up to 500 degrees, so you can use them for anything from frying eggs in the morning to baking a cake or cooking lasagna at night without having to get another pan.
The solid stainless steel handles are designed ergonomically, and stay cool on top of your cook means you don't have to worry about burning yourself.
The heavy gauge 4.5 aluminum base ensures even heat distribution and makes sure that you cook your food evenly, quickly, and without hassle.
These pots work on induction, electric, ceramic glass stovetops, or any other surface you can think of with ease!
So, if you want to saute, griddle, pan-fry, shallow fry, deep fry, boil, steam, braise, bake, roast, and broil without having to cook in oil or butter, this cookware set is worth looking into.
You will love how easy it is to clean the pots and pans as they are dishwasher safe, but you can also hand wash them just as easily!
3. Circulon Elementum Hard-Anodized Nonstick Cookware Pots and Pans Set
Our budget pick
It comes with 10 pieces hard anodized nonstick cookware set that includes:
1-Quart Straining Saucepan with Lid and Pouring Spouts
2-Quart Straining Saucepan With Lid and Pouring Spouts
6-Quart Stockpot with Lid
3-Quart Sauté Pan with Lid
10-Inch Frying Pan
11. 75-Inch Frying Pan
If you are looking for a new induction cookware set that will last years and also come at an affordable price, then this is the set to buy. It's made from super-tough aluminum, which means it distributes heat evenly and can handle anything you throw at it!
The nonstick coating lasts ten times longer than normal nonstick and doesn't require butter or oil – just cooking spray or oil – no more sticking food!
These pots and pans were designed with your comfort in mind as well. They feature riveted stainless steel handles with silicone grips, so they're easy to hold.
There are also shatter-resistant tempered glass lids that seal in heat and moisture. This set is PFOA-free, so no worries about harmful chemicals.
You can use your metal utensil on the cookware with ease and the nonstick surface will outlast them all.
This set is oven safe up to 400 degrees Fahrenheit – so you can use it for roasting, broiling, or baking as well! This makes clean-up a cinch since everything washes off quickly in water.
With this product comes a lifetime warranty, so you can purchase it with peace of mind.
It's the perfect induction cookware set for new cooks or experienced ones looking to upgrade!
Wrapping up:
Thanks for reading the complete guide about how to use non induction cookware on an induction cooktop. We hope you found this guide useful, but if you have any questions or comments, please feel free to leave them in the comment section below.
Sharing is caring!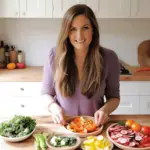 My name is Lori Walker. I'm a registered dietitian, food blogger and food enthusiast. I share easy healthy, delicious recipes on my blog and review necessary kitchen items. The recipes I share take less… Read more