Last Updated on November 9, 2023
This luscious Costco banana bread is a must-go for any special occasion or just for a cozy night! The secret to this recipe lies in the use of Costco's extra-large, organic bananas. By combining these with other simple ingredients and a few steps of baking, you can create an amazing loaf that will have everyone asking for more.
Follow the directions below and you'll be baking your way to a delicious dessert in no time. Enjoy the sweet, creamy flavor that you won't find with any store-bought banana bread. Here's to a delicious treat!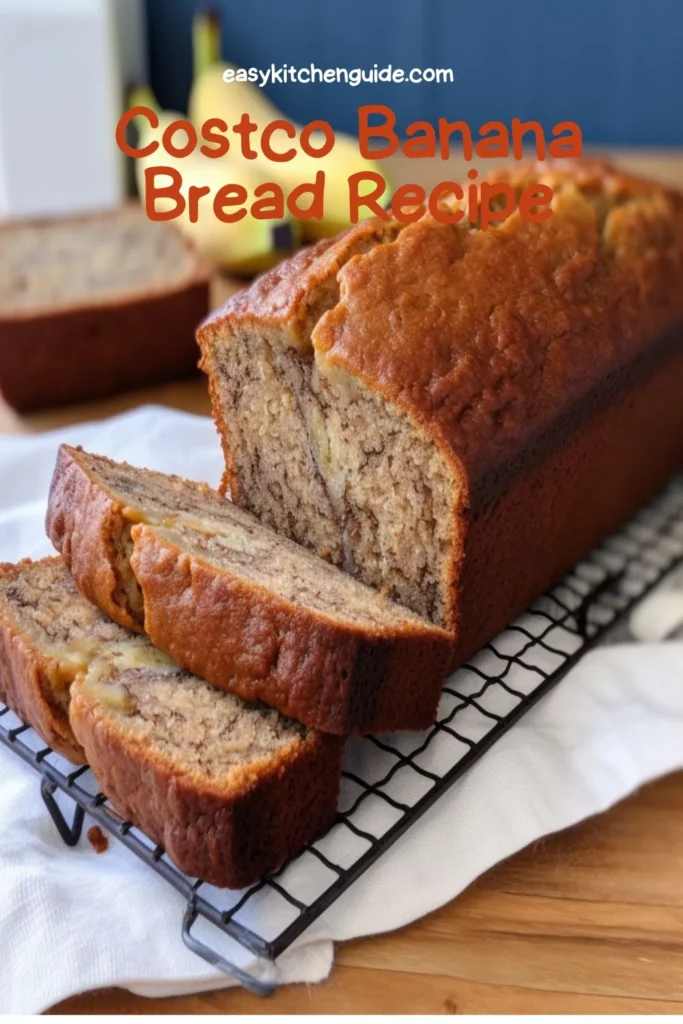 What is Costco banana bread?
Costco banana bread is a type of quick bread that is made with mashed ripe, organic bananas as the main ingredient. It's an incredibly moist and flavorful loaf that is loaded with taste and texture. The addition of cinnamon, nutmeg, and other spices adds a touch of warmth to this classic treat.
By including walnuts or pecans in the recipe, you can make it even more delicious. Enjoy this scrumptious treat with a dollop of butter or a drizzle of honey.
How did I first get introduced to the Costco banana bread?
I first discovered this delectable treat at a potluck dinner hosted by my family. My aunt brought a loaf of Costco banana bread as one of her desserts and everyone raved about how amazing it tasted. It had such an incredible aroma that made my mouth water!
The slices were so moist and fluffy with a hint of sweetness that was just perfect. I couldn't believe how easy it was to make such a delicious treat and everyone wanted the recipe. My aunt kindly obliged and shared her Costco banana bread recipe with us all.
Since then, I've been making this tasty dessert for special occasions, family gatherings and just because! It has become one of my favorite treats to bake as it's always so popular with everyone.
Not only is it incredibly easy to make, but it's also a cost-effective recipe to create. With just a few simple ingredients and some basic baking skills, you can have this sweet treat in no time! It's my go-to recipe for a quick and delicious dessert that always leaves people wanting more.
You'll also like the following Appetizer recipes!
Ingredients that you'll need
Unsalted butter: Adds richness and moistness to the bread, while also helping in the browning process.
Sugar: Provides sweetness and aids in caramelization for a golden brown crust.
Light brown sugar: Adds a deeper, molasses-like sweetness and extra moisture.
Eggs: Act as a binding agent, providing structure and stability to the bread.
Pure vanilla extract: Enhances the flavor, complementing the sweetness of the bananas.
Buttermilk: Adds a slight tanginess, tenderizes the gluten in the flour for a softer texture, and reacts with baking soda to help the bread rise.
Mashed bananas: The star ingredient, providing natural sweetness, moisture, and the distinctive banana flavor.
All-purpose flour: The structural backbone of the bread, providing the necessary gluten for the bread to hold its shape.
Baking soda: A leavening agent that reacts with the buttermilk, creating carbon dioxide bubbles that help the bread rise and become light and fluffy.
Salt: Enhances the flavors of the other ingredients and balances the sweetness.
Pecans: Add a pleasant crunch and nutty flavor, contrasting with the softness of the banana bread.
How to make Costco banana bread?
Making Costco banana bread is an enjoyable and rewarding experience. It requires careful attention to detail in order to get the perfect texture, sweetness, and flavor. Using quality ingredients is important for the best results, but it all comes down to executing each step with precision and accuracy.
The sweet aroma of freshly baked banana bread wafting through your kitchen will be a reward in and of itself, making your hard work worth it. Try out this recipe to create a delicious loaf of Costco banana bread with ease!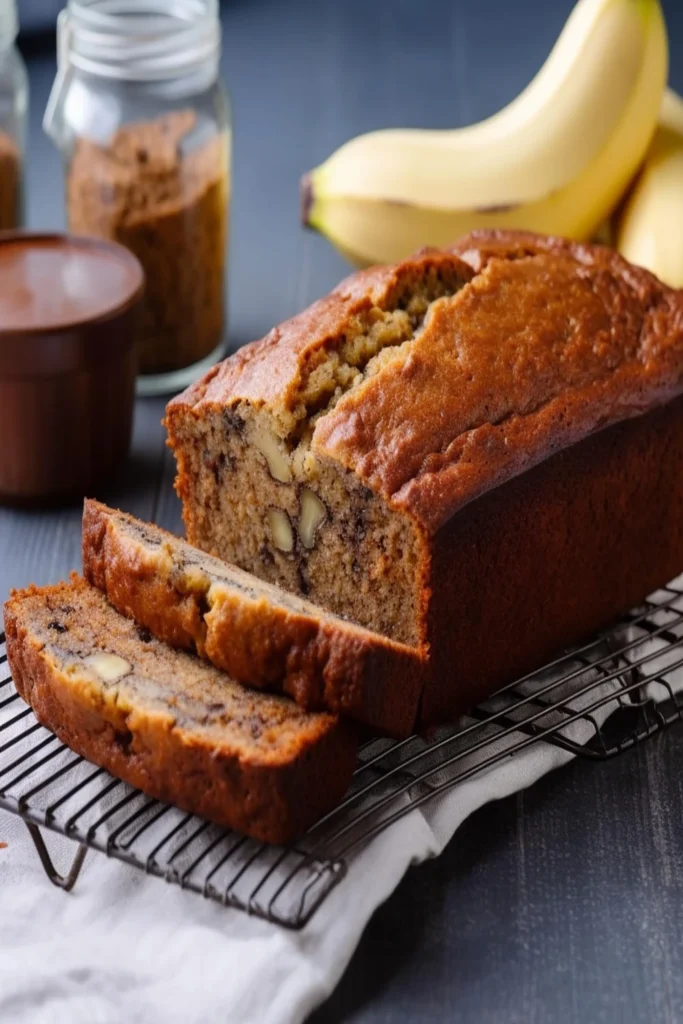 Step-by-step directions
Preheat the oven to 350°F (176°C), and prepare a 9×5-inch loaf pan by buttering or spraying it with nonstick spray.
In a medium bowl, combine the flour, baking soda, and salt. Whisk until blended, then set aside.
In the bowl of a stand mixer with the paddle attachment, cream together the butter and both sugars on medium-high speed until light and fluffy.
Add in the eggs, one at a time, mixing until well incorporated.
Mix in the vanilla extract and mashed bananas until completely combined.
Alternate adding in flour mixture and buttermilk to the banana mixture, starting and ending with the flour mixture. Mix until just combined.
Gently fold in the pecans by hand using a rubber spatula.
Pour the batter into the prepared pan, spreading evenly.
Bake for 55–65 minutes, or until a toothpick inserted into the center comes out clean and the top is golden brown.
Allow the banana bread to cool for 10 minutes in the pan before transferring it to a wire rack to cool completely.
What does it taste like?
Costco banana bread has a sweet, creamy flavor that is sure to be a hit with everyone. The mashed bananas provide natural sweetness, while the buttermilk reacts with baking soda for lightness and fluffiness. The addition of spices like cinnamon or nutmeg adds a touch of warmth and depth to the overall flavor. Topping it off with walnuts or pecans adds a pleasant crunch and nutty flavor.
The texture of the banana bread is incredibly moist and fluffy, while the aroma that fills up your kitchen will leave you wanting more! The golden brown crust is slightly crispy due to the sugar content, providing contrast with the soft interior. All in all, Costco banana bread is an incredibly enjoyable treat that everyone can appreciate.
Notes
If you would like a sweeter banana bread, feel free to add an extra tablespoon of sugar.
For a richer flavor and darker color, try using dark brown sugar instead of light brown sugar.
If desired, you can substitute the pecans with other nuts such as walnuts or almonds.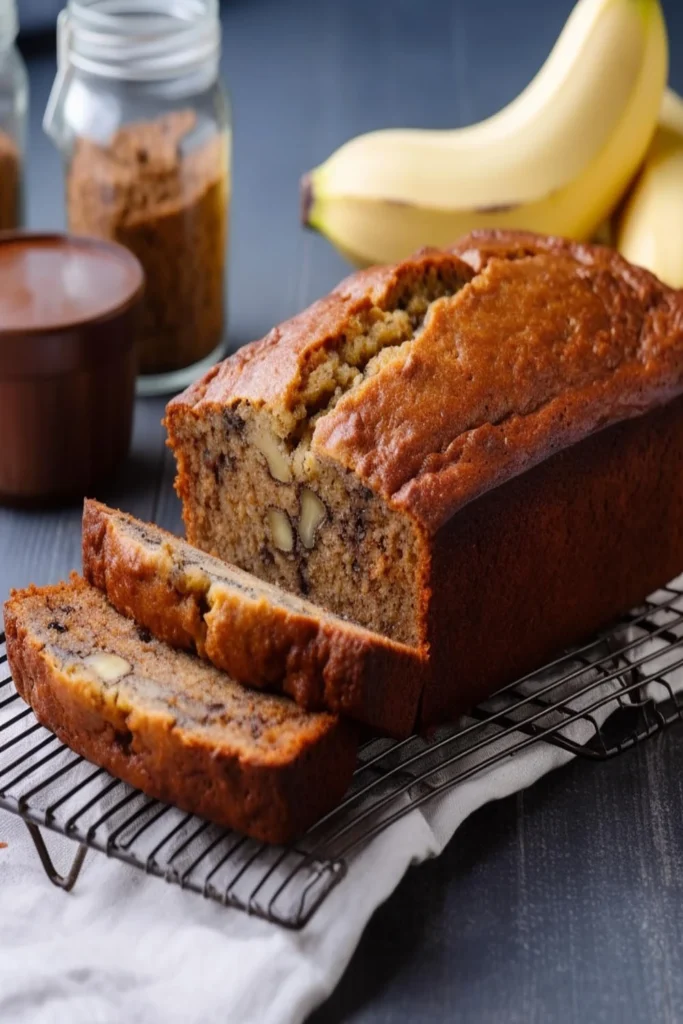 Nutrition Information
What Ingredients Can I Replace or Substitute While Making It?
If you are looking for a healthier version of Costco banana bread, there are some substitutions that can be made. For example, you can replace the butter with coconut oil or applesauce for an oil-free alternative.
Additionally, you can use whole wheat flour instead of all-purpose flour to add more fiber and nutrients. You can also use honey or maple syrup instead of sugar for a natural sweetener, or use coconut sugar for a low-glycemic option.
Finally, you can replace the buttermilk with plant-based milk such as almond, oat, or soy milk.
What to serve with Costco banana bread?
Costco banana bread is a delicious and versatile treat that pairs well with many different accompaniments. You can have it as a snack on its own, or enjoy it for breakfast alongside coffee or tea. It also goes great with a scoop of ice cream or some fresh fruit for dessert. For those looking to make it extra decadent, try adding a dollop of whipped cream or a drizzle of chocolate syrup.
Furthermore, you can use it as the perfect accompaniment to a cheese plate or charcuterie board for an upscale experience. It also makes for an excellent snack when served with creamy yogurt and granola or paired with some nuts.
It's also a great compliment to tea or coffee, as the sweetness of the banana bread provides contrast with the slight bitterness of the drinks.
How to store leftover Costco banana bread?
Leftover Costco banana bread can be stored in an airtight container or wrapped tightly in plastic wrap at room temperature for 1-2 days. Alternatively, it can be stored in the refrigerator for up to one week. If you want to freeze your banana bread, you can wrap it in multiple layers of plastic wrap and place it into a freezer-safe bag or container for up to 3 months.
How to reheat Costco banana bread?
There are a few ways to reheat Costco banana bread. The simplest way is to place it in the microwave and heat it until it's warm. For an even better result, lightly toast it in a skillet with some butter or oil before serving. This will give your banana bread a slightly crunchy texture and enhance its flavor.
To get an oven-baked look and texture, preheat your oven to 325°F (163°C) and place the banana bread in the oven to warm for about 10 minutes.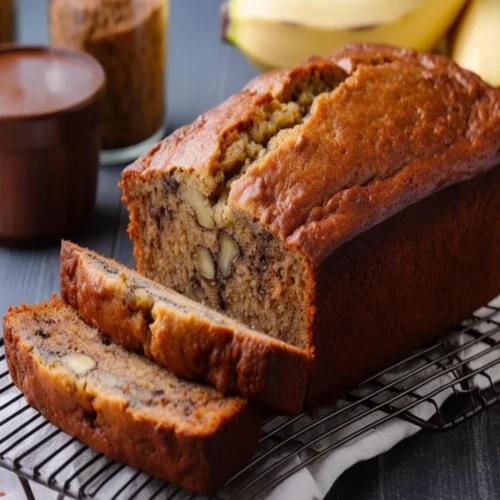 Costco Banana Bread Recipe
This luscious Costco banana bread is a must-go for any special occasion or just for a cozy night! The secret to this recipe lies in the use of Costco's extra-large, organic bananas.
Print
Pin
Rate
Ingredients
1/2

cup

chopped pecans

providing a delightful crunch and a nutty depth of flavor, adding texture and richness to each bite. The pecans also offer a beautiful visual appeal to the finished baked goods.

1/4

cup

granulated sugar

adding a delightful sweetness that caramelizes beautifully during baking, creating a golden and irresistible crust.

1/2

cup

buttermilk or whole milk

providing a tangy and creamy element that tenderizes the crumb and adds a subtle richness to the batter.

1

large egg

beaten, acting as a binding agent and adding moisture to the batter, resulting in a moist and tender crumb.

1/2

teaspoon

pure vanilla extract

infusing the batter with its heavenly aroma and adding a warm and inviting flavor that enhances the sweetness of the other ingredients.

1/4

teaspoon

salt

enhancing the flavors of the other ingredients and balancing the sweetness, creating a well-rounded and harmonious taste.

3/4

cup

bananas, mashed

about 1-2 ripe bananas, introducing natural sweetness and moisture to the recipe, resulting in a moist and flavorful outcome.

1

cup

all-purpose flour

serving as the foundation of the batter, creating a light and tender texture that is perfect for baked goods.

2

tablespoons

light brown sugar

packed, contributing a subtle caramel-like flavor and a hint of molasses, deepening the overall taste profile.

1/2

teaspoon

baking soda

acting as a leavening agent, causing the batter to rise and creating a light and airy texture in the final product.

1/4

cup

unsalted butter

softened, bringing velvety richness to the batter and lending a luxurious mouthfeel to the final baked goods.
Instructions
Preheat Oven To 350°F (175°C) And Grease Loaf Pan.

Cream Butter, Sugar, And Brown Sugar In A Large Bowl.

Incorporate Eggs One At A Time, Then Add Vanilla, Buttermilk, And Bananas.

In Another Bowl, Combine Flour, Baking Soda, And Salt. Gradually Mix Into Banana Mixture.

Gently Fold In Pecans. Transfer The Batter To The Pan, Smoothing The Top.

Bake For 60-70 Minutes Or Until A Toothpick Inserted Comes Out Clean.

Cool Bread In Pan For 10 Minutes, Then Move To A Wire Rack For Complete Cooling.
Notes
If you would like a sweeter banana bread, feel free to add an extra tablespoon of sugar.
For a richer flavor and darker color, try using dark brown sugar instead of light brown sugar.
If desired, you can substitute the pecans with other nuts such as walnuts or almonds.
FAQs 
Q: Can I use overripe bananas for Costco banana bread?
A: Absolutely! Overripe bananas are ideal for baking as they have a sweeter taste and are easier to mash. This makes them perfect for adding flavor and sweetness to the banana bread. Just make sure that your bananas still have their skins on, as the skins help keep the banana bread moist.
Q: Can I make this recipe without eggs?
A: Yes, you can! Simply replace the two eggs with ¼ cup of oil and increase the buttermilk to ½ cup. This substitution works best in recipes where eggs are used for moisture rather than structure.
Q: Can I use gluten-free flour?
A: Yes, you can substitute the all-purpose flour for a gluten-free version. Just make sure to look for a quality brand that is specifically designed for baking. Additionally, it's best to check the package instructions as some brands may require additional ingredients such as xanthan gum.
Wrapping Up
Making Costco banana bread is a great way to enjoy the classic treat at home. With its sweet, creamy flavor and fluffy texture, it's Plus, this recipe can easily be adapted for those who are gluten-free or vegan. You will love it just as much as the store-bought version.
So next time you're in the mood for something sweet, give this homemade Costco banana bread a try! It's sure to be an instant favorite. Please comment below and let us know how your banana bread turned out. We can't wait to hear about it!
You'll also like the latest recipes!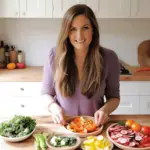 My name is Lori Walker. I'm a registered dietitian, food blogger and food enthusiast. I share easy healthy, delicious recipes on my blog and review necessary kitchen items. The recipes I share take less… Read more